SCHIZOPHRENIC.NYC
MENTAL HEALTH CLOTHING BRAND
Schizophrenic.NYC Mental Health Clothing Brand was created Michelle Hammer, a Schizophrenia Activist living in New York City who wants to change in the way New Yorkers perceive people with mental health issues.
Schizophrenic.NYC donates a portion of our profits to organizations who support the mentally ill homeless, such as Fountain House, NYS Health Foundation, MHA-NYC, and NAMI. The designs made by Michelle Hammer the creator of Schizophrenic.NYC are intended to start discussions- What do the see in the Rorschach Tests T-shirts and Tank Tops? How do our mental health slogans make you feel? Only through an open dialogue of mental health can we reduce its stigma. Here at Schizophrenic.NYC we are using clothing and art to get the word out about mental health awareness. Together we are making a change!
Don't Be Paranoid Collection
Rorschach Test T-Shirt Collection
Artwork Pillbox Collection
Illusion Leggings Collection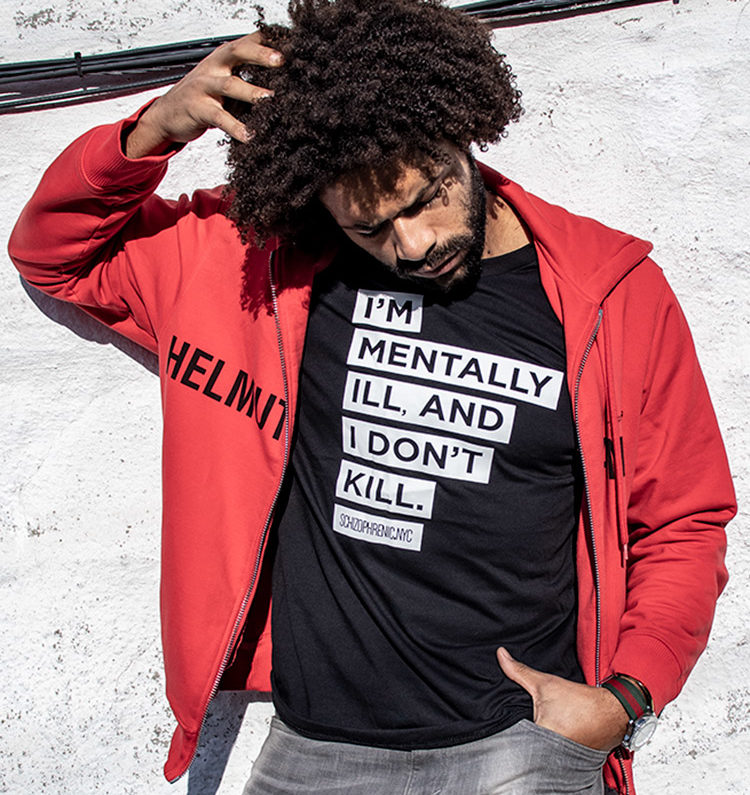 I'M MENTALLY ILL, AND I DON'T KILL – The Tee
We are an underrepresented community who is being stigmatized. Stop blaming and furthering stigmatizing the mental health community for a hate and gun problem. Help represent. Help give a voice for our community who is being stigmatized. You do not have to have a mental illness to wear this tee.
People with mental illness are likely to become a victim of abuse than a perpetrator.
– APA
Other countries have roughly the same amount of mental illnesses and yet they are not experiencing these traumatic events as we expereince them in the United States.
– APA
FEATURED ARTWORK
Artwork by Michelle Hammer, the Schizophrenic founder of Schizophrenic.NYC Mental Health Clothing Line
RECENT NEWS
What's New in The Mental Health Clothing Brand World
Michelle
Michelle Hammer, the founder of Schizophrenic.NYC was interviewed on Base Camp Podcast. Sam and Jasmine talk to experts about [...]
Michelle
The NAMI-NYS Perspectives series features perspectives from a wide range of guests from our community including prominent figures, NAMI-NYS [...]
Michelle
by Michelle Hammer Living in New York City these days has meant living in fear. One constant has been [...]
FEATURED IN